BOOK YOUR ONLINE PRE-ASSESSMENT NOW.
Book a 45 minute consultation securely with us though our Phorest system.
What is WOW fusion?
WOW fusion is an innovative needling device that allows the practitioner to create bespoke skincare cocktails in the little glass vial that is ideal for your clients skincare needs. A truly tailored signature service. A fusion of Mesotherapy, Micro needling. and skin-loving solutions. The needle head contains 20 titanium 24K gold plated needles each being 0.13mm in diameter. As they are so thin, they make a small trauma without the pain. They also have a small spiral groove in the needle that allows product to flow down and into the skin to the epidermal/dermal junction and mid dermis. The needle head then screws onto the glass vial so it delivers the WOW fusion serum into the skin. The technique is to gently but firmly stamp the face with the needle head. The stamping pushes a small platform up and into the unit and this action pumps the product out of the needle head and down the needles. The needle heads come in two depths 0.6mm and 1mm.
WOW Fusion Indications
Indications for the 0.6mm device are:
Pore refinement
Reduce sebum production
Fine lines and wrinkles
Sun damage
Delicate eye area
Mechanical exfoliation
Changing the texture of the skin and improving skin elasticity
Other indications requiring 1mm device are:
Acne scarring
Deeper lines and wrinkles
Collagen and elastin stimulation
Excessive sweating
Hydration
Thicken the epidermis
Stretch marks
Smoother complexion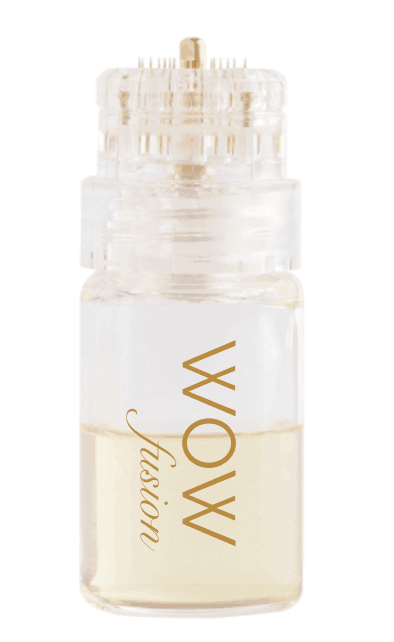 PRICE LIST
Download the Price List
Thank you for your interest in Nichola Maasdorp No4 Clinic.  Please subscribe to our mailing list to get access to the Price List.
"Visiting the clinic is always a fantastic experience. Expert care, advice and First Class treatment options. I feel so lucky to have this on my doorstep, a Harley Street Clinic in Moray"
Chloe K
"Hi Nichola, I don't know if you remember but I had tear trough treatment back in November. I just wanted to say a huge thank you! I was initially fairly pleased with the results but now am delighted! The darkness has all but gone even without make-up. I am so much more confident than before."
Deborah
"I am so happy with the scar revision procedure Nichola did on my lips. It has helped me with my confidence and the results are amazing. Definitely would recommend"
Nicola P
"I am so happy with my treatment today. The lip filler is amazing and I feel it has made such a difference. The girls are so nice and made me feel so at ease. Nicci is so professional with her treatments. I have now had a few different treatments and I'm so delighted with them. I would recommend this practice to anyone who wants to look and feel better…..it really has given me my confidence back! Thank you so much and I can't wait for my next treatment."
Gwen
"My wrinkled lined face caused me great distress for many years! An opportunity arose to attend an open day with Dr Nichola Maasdorp. I was introduced to different treatments to reduce these lines. Following treatment my lines are smoother and I am very pleased with the results.
I would recommend facial enhancement treatment with Dr Nichola Maasdorp."
Margaret